Coffin Pin Boards
The next Coffin Pin Board Shop Update will be on Sunday, June 28th at 4pm PST, HERE
Add to Calendar
LINK TO REFRESH ON SUNDAY, JUNE 28TH AT 4PM PST: SHOP COFFIN PIN BOARDS
Some facts to know:
Coffin Pin Board Shop Updates happen about once per month.
They go live on the site at exactly at the time listed.
The Pin Boards sell out within minutes, every time.
It is recommended to refresh the site (LivelyGhosts.com) right around the time they are set to go live.
Due to high demand, Shop Updates will now have 30-50 Pin Boards. The last shop update had 66 Boards and sold out within 5 minutes. 
Each Pin Board is handcrafted and one-of-a-kind. Because of this, each Pin Board has it's own name.
As the release date gets closer, this page will feature the Pin Boards (& their names) with pictures so you can get a good look before they go live. 
Each month's Pin Board Shop Update has a theme. The most recent theme was 'Bats' in honor of the new season of 'What We Do In The Shadows'.
Pin Boards come in 3 sizes, though some shop updates only feature 2 sizes. The 3 sizes are Small (7"), Large (12"), & Extra Large (16").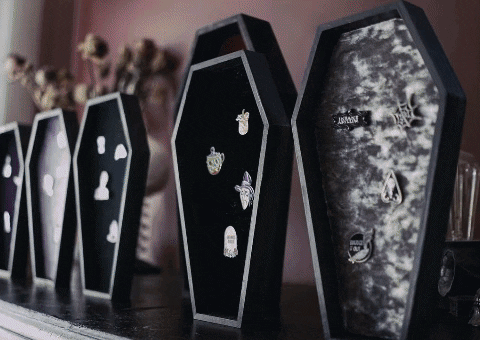 The June 28th Shop Update Theme Is : Tim Burton & Haunted Mansion. The Update Will Include (More to Be Announced Soon): 
The Ghost Host (Various Sizes)
The Nadja (Extra Large)