Coffin Pin Boards
The next Coffin Pin Board Shop Update will take place on Tuesday, August 31st at 12pm PT, and will be held HERE
Velvet Coffin Pin Boards © / Pat. Pend.
LINK TO REFRESH DURING THE SUMMER 2021 PIN BOARD RELEASE : SHOP COFFIN PIN BOARDS
Some facts to know:
Coffin Pin Board Shop Updates release once per season (4x per year, for each season). The demand is high, so set an alarm! 
They go live on the site at exactly at the time listed.
The Pin Boards sell out within minutes, every time. 
It is recommended to refresh the site (LivelyGhosts.com) right around the time they are set to go live.
Due to high demand, Shop Updates will now have 300-500 Pin Boards. 
IMPORTANT NEW NOTICE: Because of the immensely heavy site traffic, on the rare occasion -- the site doesn't update inventory fast enough to meet the speed of orders being placed. There is a small chance that an order may go through for an item that sold out just milliseconds before. If this happens, keep an eye out for an email with further information.
Each Pin Board is handcrafted & unique. Please bear in mind that each Pin Board will have signs of hand-craftsmanship. These are not factory made, so small imperfections are a sign of the handiwork.
As the release date gets closer, this page will feature the Pin Boards (& their names) with pictures so you can get a good look before they go live. 
Pin Boards come in 2 sizes. The 2 sizes are Large (12"), & Extra Large (16").
SHIPPING INFO: Because each Pin Board is hand-packaged with care, please be patient with the turnaround time for your Pin Board. On average, Pin Boards take roughly 1-2 months to ship due to the immensely high quantity of Pin Board orders. All orders include tracking and insurance. Once your order has shipped, you will receive an email with tracking information. It is also highly recommended to add Route Shipping Insurance to your cart at checkout (there will be a button, toggle it on).
Purchasing multiple Pin Boards: Should you decide to purchase multiple Pin Boards, items may be combined and shipped together to minimize shipping supplies. Whilst refunds are often granted for shipping overages/combined orders -- Coffin Pin Boards do not qualify for shipping overage refunds.
Coupons & Promo Codes: If you have a coupon or promo code, be sure to apply it at checkout before clicking 'Place Order'. Coupons & promo codes cannot be retroactively applied to Pin Boards after your order is placed. 
ALL PIN BOARDS ARE FINAL SALE & NON-REFUNDABLE.
MOST IMPORTANTLY: If you miss out on a Coffin Pin Board Shop Update, please be mindful that more Shop Updates will come. Because these Pin Boards are crafted by hand and not factory-made, it's tricky to meet the soaring demand. Please be patient and know that for every Pin Board order -- a human is dancing in celebration and then getting right back to work on crafting more Pin Boards for you all ♥️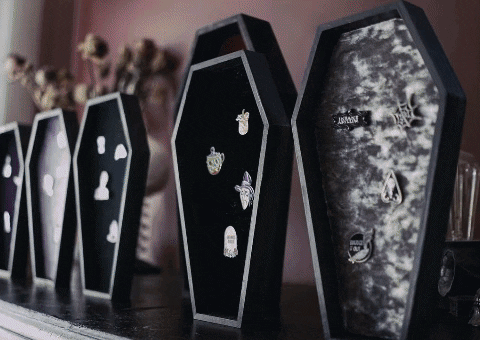 .
The Summer 2021 Update Will Include: 
Pin Boards will be announced here closer to the release date.